It has been a crazy couple of weeks for the Dungeons & Dragons community.  For a while, there has been a rumor that Wizards of the Coast, the company that owns  Dungeons & Dragons and itself owned by Hasbro, might update their 23 year old Open Gaming License 1.0a.  There had been concern that the OGL that lead to a sense of freedom to create and develop extra books and adventures and play for D&D 5E would radically change.  Wizards of the Coast did try to calm fears but downplaying the potential changes.
On January 5, 2023, Linda Codega, broke the story in I09 (Gizmodo) about the huge changes coming with the newly named OGL 1.1 from a leaked document.  These changes would affect third party creators who could freely create and sale their own work as a supplement to official Dungeons and Dragons material.  The new Open Gaming License 1.1 and later called 2.0 would essential change it from an open system to a very restrictive closed system for creators to give up profits and allow Wizards of the Coast to own their unique creations. So Open Gaming License 1.1 was only open in name only. This also brought out the possibilities of Wizards restricting videos that might be monetized and even taking ownership of unique characters from groups.
The new OGL would attempt to change everything.  The original OGL granted a perpetual, worldwide, non-exclusive license for others to play in the D&D sandbox.  It also directed that licensees "may use any authorized version of this License to copy, modify and distribute any Open Game Content originally distributed under any version of this License."  The new one is trying to invalidate the old license by stating the updated OGL says that "this agreement is…an update to the previously available OGL 1.0(a), which is no longer an authorized license agreement.".  There was a lot of legal speculation that this was not legally enforceable but the courts would have to decide.
This spurred a ton of backlash in the community that had already feared this might come in the future.  Podcasters, video podcasters, writers, and fans of D&D joined together to stand up to this change. They were joined by groups from other table top game communities like Pathfinder.   Wizards and Hasbro did something no one thought was possible, it united the community with one voice.  This was enough to delay the announcement of the new OGL twice.  But sources inside of Wizards stated that this was only a delay in an attempt to calm down the community.
Ginny Di is a Youtuber, cosplayer, and D&D Dungeon Master. She creates fun videos about how better play D&D.  She is a ton of fun and well respected. Her livelihood could be in jeopardy with the new OGL 1.1.  She tweeted out on January 12th about canceling her DND Beyond subscription (I am sure she wasn't the only one) and it seemed to set the world on fire.
For those asking how they can help push back against OGL 1.1 — we now know that WotC is looking at DnD Beyond subscriptions as a relevant metric (see previous RT). This is your chance to send them a message. Just sent mine 📬 pic.twitter.com/IEXDmYvno9

— Ginny Di 🎲 #OpenDnD (@itsginnydi) January 12, 2023
DND Beyond started feeling the cancelations in thousands on Thursday. Their servers started receiving an Internal 500 error.  Many believed that fans crashed the site. After a couple of hours, the unsubscribed had been moved so speculation was that it was brought down to stop the bleeding.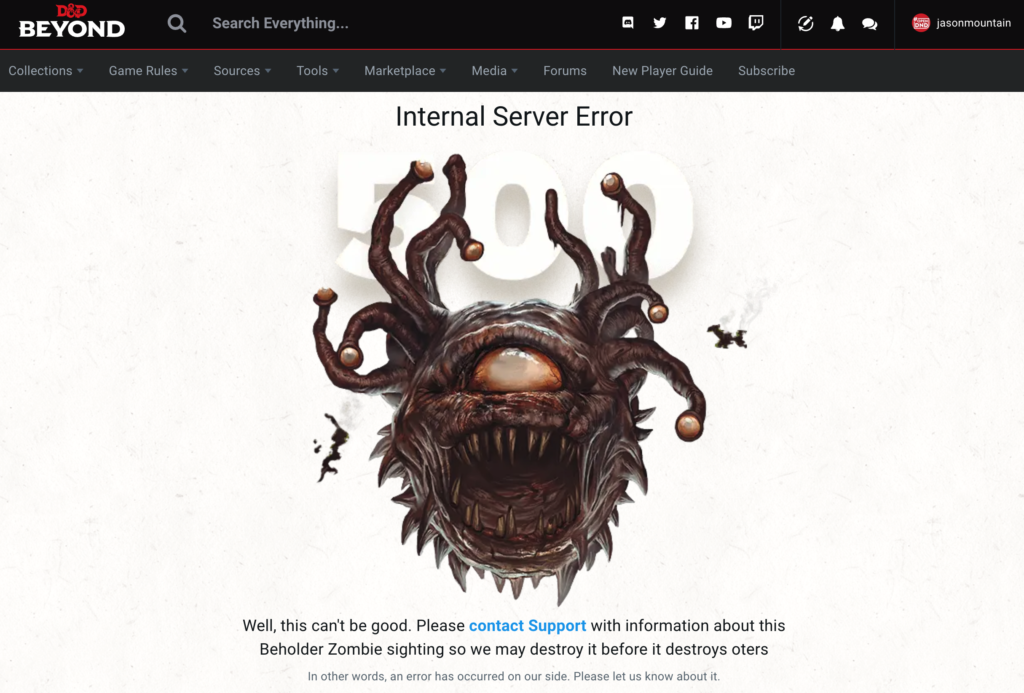 There was an expectation for information on the new OGL from Wizards was for Thursday.  This didn't happen.  DND Beyond had a scheduled live feed for Thursday afternoon planned but it also got conveniently cancelled and we were told that it was just an "old scheduled appointment and was never intended for a live feed."
You can check out my video with D from Skallywag Productions on this subject on Thursday night.  You can watch it here.
On Friday, Wizards of the Coast finally broke their silence on the new OGL.  They posted the following PR statement to DND Beyond.
When we initially conceived of revising the OGL, it was with three major goals in mind. First, we wanted the ability to prevent the use of D&D content from being included in hateful and discriminatory products. Second, we wanted to address those attempting to use D&D in web3, blockchain games, and NFTs by making clear that OGL content is limited to tabletop roleplaying content like campaigns, modules, and supplements. And third, we wanted to ensure that the OGL is for the content creator, the homebrewer, the aspiring designer, our players, and the community—not major corporations to use for their own commercial and promotional purpose.

Driving these goals were two simple principles: (1) Our job is to be good stewards of the game, and (2) the OGL exists for the benefit of the fans. Nothing about those principles has wavered for a second. 

That was why our early drafts of the new OGL included the provisions they did. That draft language was provided to content creators and publishers so their feedback could be considered before anything was finalized. In addition to language allowing us to address discriminatory and hateful conduct and clarifying what types of products the OGL covers, our drafts included royalty language designed to apply to large corporations attempting to use OGL content. It was never our intent to impact the vast majority of the community.

However, it's clear from the reaction that we rolled a 1. It has become clear that it is no longer possible to fully achieve all three goals while still staying true to our principles. So, here is what we are doing.

The next OGL will contain the provisions that allow us to protect and cultivate the inclusive environment we are trying to build and specify that it covers only content for TTRPGs. That means that other expressions, such as educational and charitable campaigns, livestreams, cosplay, VTT-uses, etc., will remain unaffected by any OGL update. Content already released under 1.0a will also remain unaffected. 

What it will not contain is any royalty structure. It also will not include the license back provision that some people were afraid was a means for us to steal work. That thought never crossed our minds. Under any new OGL, you will own the content you create. We won't. Any language we put down will be crystal clear and unequivocal on that point. The license back language was intended to protect us and our partners from creators who incorrectly allege that we steal their work simply because of coincidental similarities. As we continue to invest in the game that we love and move forward with partnerships in film, television, and digital games, that risk is simply too great to ignore. The new OGL will contain provisions to address that risk, but we will do it without a license back and without suggesting we have rights to the content you create. Your ideas and imagination are what makes this game special, and that belongs to you.

A couple of last thoughts. First, we won't be able to release the new OGL today, because we need to make sure we get it right, but it is coming. Second, you're going to hear people say that they won, and we lost because making your voices heard forced us to change our plans. Those people will only be half right. They won—and so did we.

Our plan was always to solicit the input of our community before any update to the OGL; the drafts you've seen were attempting to do just that. We want to always delight fans and create experiences together that everyone loves. We realize we did not do that this time and we are sorry for that. Our goal was to get exactly the type of feedback on which provisions worked and which did not–which we ultimately got from you. Any change this major could only have been done well if we were willing to take that feedback, no matter how it was provided–so we are. Thank you for caring enough to let us know what works and what doesn't, what you need and what scares you. Without knowing that, we can't do our part to make the new OGL match our principles. Finally, we'd appreciate the chance to make this right. We love D&D's devoted players and the creators who take them on so many incredible adventures. We won't let you down.  (D&D Beyond)
This is not a binding legal document but rather a statement.  It was intended as a way to bring back a little bit of trust in the community and to stop the bleeding of DND Beyond subscriptions.  When you read this statement, it doesn't take responsibility for the uproar but rather deflects it.  It tries to play off the OGL 1.1 as only a draft for comments but many were given a copy of this as a binding contract.  This statement does make promises that fans will appreciate and may bring some back to the table.  But a lot of trust has been destroyed between Hasbro/Wizards of the Coast, and the D&D players, fans, and creators.  Will this work?  If it rollback is official to the original OGL 1.a and they don't try this again in a few years, this might work for some over time. But the genie is out of the bottle and some will never trust them again.
Things are in constant change on this so we will update about this as things change.
Stay Geeky!