Ah.  One of my most beloved Christmas traditions and one so cherished by me since I first admired it at the tender age of seven is watching "The Nutcracker" at The Fox Theater.  I see the local production each chance I get.  The stunning story, heightened by splendid dance, the effects that fill your heart with wonder like fresh falling snow, the colorful world and cast of characters, and the music! Oh sugar plums, how it all takes me away! This spectacle is a sight to behold although I have everything about this stage show memorized.  Of course, there is a reason that this Tchaikovsky 1892 work is known by so many and a staple of the holidays.
However, I do understand ballet is not for everyone.  That is why it is so wonderful that this masterpiece can be reached to others through books, music, and film.  I have seen a handful of renditions of "The Nutcracker" since I was a child.  I may be a tad bias on some of my selections for nostalgia sakes, but I hope you can find a new retelling to enjoy.  I went in order for the least to greatest.
Here is my Top Theatrical Versions of "The Nutcracker:"

"The Nutcracker Prince (2016):"
I'll admit it; I am a sucker for most Hallmark Christmas movies, even if they follow the same format.  It's nice to watch something wholesome that doesn't make you think too much.  A few years ago, when my mom and I were wrapping gifts, we stumbled upon it.
The script follows a young woman named Lily who dreams of being a ballerina and dancing the convenient role of the Sugar Plum Fairy in the New York Ballet's Nutcracker.  She gets bullied or passed up a few times but climbs her way to the top, her older sister always believing in her.  Yet, once she lands the role, she receives news her sister was in a fatal car accident and now Lily must decide what to do with her infant niece and if she should put her life on hold or keep her ballet dreams hers.
This was a nice Hallmark movie with a slight ballet flare.  Nice, but nothing amazing.  I did like watching the dancing and the concept was good, but I think it could have been presented better by the actors.  It was dry in tone at times.  But if you like these types of movies, I recommend you give it a watch.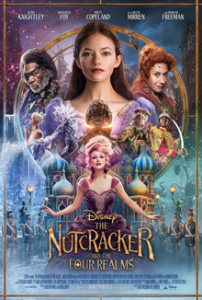 "The Nutcracker and The Four Realms (2018):"
Okay guys! You have no idea how pumped I was to see this movie! Disney made?  Sold! Seeing Mackenzie Foy in a role all her own?  Heck yeah! Morgan Freeman?  Enough said! Beautiful costumes and sets?  Sign me up! I was so ready for this film and a unique take of Clara taking over her deceased mother's hidden role as queen of a land of essentially come to life toys in a magical like world, four of them to be exact.  So, after all this, how did I feel about this sight?
It was…okay.
I don't know what it was.  It looked lovely, but the story was all over the place.  It tried to come back to start, a flow, but not really hitting the mark.  I didn't feel a deep connection to any of the characters once Clara went to the realm (and trust me; I tried to ship her with The Nutcracker, but it wasn't there. Boo!).  Some of the effects were cool and clever, but again, the charm many were expecting was not there.  Still for sure worth a watch for the visuals and how delightful Morgan Freeman is.

"The Nutcracker (1993):"
This is basically a taping of The New York Ballets "The Nutcracker" that was made with some elements of a musical with some A list stars.  I will be honest; I do not recall much about it for I was four when it was aired, but I recollect it advertised A LOT and that I did like it.  The snow cascading down like magic, the bright costumes, and a young Macaulay Culkin in his prime dressed in blinding white as The Nutcracker prince.  HA! I have heard wonderful things about it to this day, so I think it deserves a good spot. 🙂

"The Nutcracker Prince (1990):"
This is a Canadian animated film that I recall watching at my grandma's house, so seeing it gives me warm feelings of love and brings a smile to my face.  Grandma got it for me on DVD years later and I watch it each year.  The animation hasn't overly aged well, but the uniqueness of the tale, the insight to why the Mouse King is the way he is (and his cooky, BA mother) is a fun perspective that I haven't seen other places yet.  It can be a trip from the dreamy atmosphere to the pop art style with the rats.  But still, the characters are adorable and the version one you won't find anywhere else.  It just makes you happy.

"Barbie in the Nutcracker (2001):"
And this is where my bias/childhood comes in! What a treat! This is Barbie's first movie, which is huge! This is the first time I heard the fabulous Kelly Sheridan and Kirby Morrow (who suddenly and recently passed.  Rest in peace, beloved one).  These two later will help introduce me to anime voice actors.  Hearing Tim Curry as the Mouse King is perfection that still gives me chills.
The CGI still holds up fairly well considering it's almost 20 years old.  And the music is truly made for it, not slapped in like some movies.  The harmony between everything enchants me to this day.  The world really feels magical and the cast is so fun, always making me smile.  Truly see the evolving relationship between Clara and The Nutcracker is refreshing and dear.  This is an entertaining introduction to The Nutcracker for young ones with realistic dances and proper songs for the whimsical tale.
If you're concerned, it is easy to ignore this is a Barbie movie after the intro, lol! Yes, I also did have all the matching toys! Adored them. 😀 And I highly recommend any of the first 10 or so Barbie movies.

"Mickey's Nutcracker short (2001):"
A tie for first place?! What the nani?! I know; I'm horrible.  >.<  But, there is something so sweet and funny about this short that was apart of the "Snowed in at the House of Mouse" holiday special.  It cracks me up every year seeing Mickey as the gallant knight, Minne as the sweet Clara, Goofy the absentminded snow fairy, and Donald ironically the Mouse King.  The way the narrator interrupts and has such a personality is a riot! 😀 The twist at the end will have your mind blown and in a fit of giggles the first time.  Plus, who doesn't love some Disney magic during the holidays?
Honorable Mention:

The anime "Princess Tutu (2020):"
This is one of my favorite animes of all time and that is saying a lot! It is like watching a watercolor come to life.  Everything is breathtaking.  The story is original, delightful, and heart-warming, but the twist of beautiful darkness in it appeals to everyone.  Duck is a charming protagonist.; you just want to hug her.  The characters are raw and real despite the out-of-this-world situation.  I love how each story is a story within the main story and the lesson is about do we follow destiny or fight it and at what costs will those decisions make.  They follow ballets since the characters are attending a ballet school, and of course, one of them is "The Nutcracker," the music from all these staged shows in each representing episode.  The cast in this will whisk you away and you will have a treasure watching this.
********************
I hope this list will bring some more magic, music, and wonder to your holiday seasons.  Savor your traditions, your loved ones, and the gifts we have been given.  
Stay nerdy!
Also, check out my sister list to this one on my author website: "Top Ten 'The Nutcracker' Songs:"
************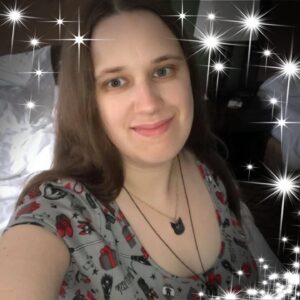 Educator of young minds by day, super nerdy savior of justice, and cute things by night, Morgan Straughan Comnick has a love for turning the normal into something special without losing its essence. Morgan draws from real-life experiences and her ongoing imagination to spark her writing. In her spare time, she enjoys doing goofy voices, traveling to new worlds by turning pages, humming child-like songs, and forcing people to smile with her "bubbliness." It is Morgan's mission in life to spread the amazement of otaku/Japanese culture to the world and to stop bullying; she knows everyone shines brightly.
For more information about Morgan and her works, check out her website, which also has links to all her social medias: http://morganscomnick.com