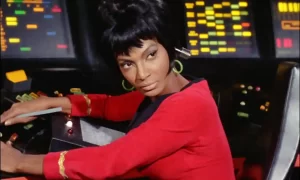 Nichelle Nichols at Lt Uhura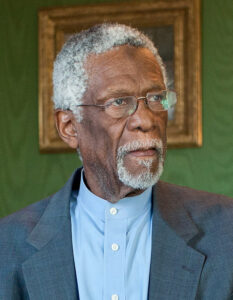 Today is a sad day in both the sports world and the sci-fi world as NBA Hall of Famer, Boston Celtics Legend and 11 Time NBA Champion Bill Russell passed away. at 88 As if that news wasn't shocking enough, just a few hours later, we learned that Actress Nichelle Nichols, whose pioneering role as Lt. Uhura on Star Trek inspired so many African Americans to strive for their dreams, also passed away at 89.
A Statement posted on twitter in the wake of Russell's passing included the following:
"But for all the winning, Bill's understanding of the struggle is what illuminated his life. From boycotting a 1961 exhibition game to unmask too-long-tolerated discrimination, to leading Mississippi's first integrated basketball camp in the combustible wake of Medgar [Evers'] assassination, to decades of activism ultimately recognized by his receipt of the Presidential Medal of Freedom … Bill called out injustice with an unforgiving candor that he intended would disrupt the status quo, and with a powerful example that, though never his humble intention, will forever inspire teamwork, selflessness and thoughtful change,"
"Bill's wife, Jeannine, and his many friends and family thank you for keeping Bill in your prayers. Perhaps you'll relive one or two of the golden moments he gave us, or recall his trademark laugh as he delighted in explaining the real story behind how those moments unfolded. And we hope each of us can find a new way to act or speak up with Bill's uncompromising, dignified and always constructive commitment to principle. That would be one last, and lasting, win for our beloved #6."
Over a 15-year period, beginning with his junior year at the University of San Francisco, Russell had the most remarkable career of any player in the history of team sports. At USF, he was a two-time All-American, won two straight NCAA championships and led the team to 55 consecutive wins. And he won a gold medal at the 1956 Olympics.
During his 13 years in Boston, he carried the Celtics to the NBA Finals 12 times, winning the championship 11 times, the last two titles while he was also serving as the NBA's first Black coach.
Nicholls son Kyle Johnson posted the following on her facebook page:
Friends, Fans, Colleagues, World
I regret to inform you that a great light in the firmament no longer shines for us as it has for so many years.
Last night, my mother, Nichelle Nichols, succumbed to natural causes and passed away. Her light however, like the ancient galaxies now being seen for the first time, will remain for us and future generations to enjoy, learn from, and draw inspiration.
Hers was a life well lived and as such a model for us all.
I, and the rest of our family, would appreciate your patience and forbearance as we grieve her loss until we can recover sufficiently to speak further. Her services will be for family members and the closest of her friends and we request that her and our privacy be respected.
For Media inquiries only, please contact 424-441-9275″
Nicholls famously was going to leave Star Trek after the first season, but a chance meeting with Dr Martin Luther King changed all that.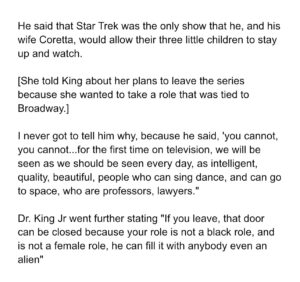 C0star George Takai posted the following on Twitter:
"
I shall have more to say about the trailblazing, incomparable Nichelle Nichols, who shared the bridge with us as Lt. Uhura of the USS Enterprise, and who passed today at age 89. For today, my heart is heavy, my eyes shining like the stars you now rest among, my dearest friend.
After staring on Star Trek, Nicholls helped NASA expand their reach into the African American Community, and made minorities realize that they could succeed at whatever they wanted to do.  One such person was Dr. May Jemison, who said "seeing Nicholls playing Lt Uhura sparked her interest into going into Space.  She was selected as the first African American female astronaut in the first group of selectees, after the Challenger disaster.  May went on to be the first Black female to fly into space.  She also appeared on Star Trek as Lt Palmer, after an invitation from Levar Burton.
Nicholls blazed a trail that opened the doors for so many black actresses, to list them all would take more than this blog post could "handle".  As a Star Trek fan, I never got the chance to meet Nicholls, however so many actors and actresses that I have talk to had nothing but good things to say about her.  She was a beacon of light and hope, for multiple generations of little girls.  To try and sum up her role both on and off the screen, my words would be woefully inadequate, so i will simply end with this:
RIP Lt Uhura
LLAP
"Hailing Frequencies Closed"