After teasing us with the silhouette of a cover, Marvel couldn't contain themselves and revealed the upcoming Spider-Man costume change already.  I hoped they would wait until it hit stores to reveal the cover but they didn't.  I would love to be surprised by the change like I was for Amazing Spider-Man #252 Vol 1 (Yes I do have a copy and hold it dear and near to my heart) with the famous Black and Silver costume.
It is an interesting change. It goes completely away from his red based costume to a white and blue based costume. It has an orange elongated spider. It also have orange glowing eyes. This costume change is a significant move way from the traditional look of Spider-Man.
It is introduced in Amazing Spider-Man #62 Vol 5.  After the intense psychological breakdown of Peter during the Sin Rising storyline, Peter needs something new.  It is definitely a new look for the Web Head but will it bring a change in his Parker luck (bad luck)?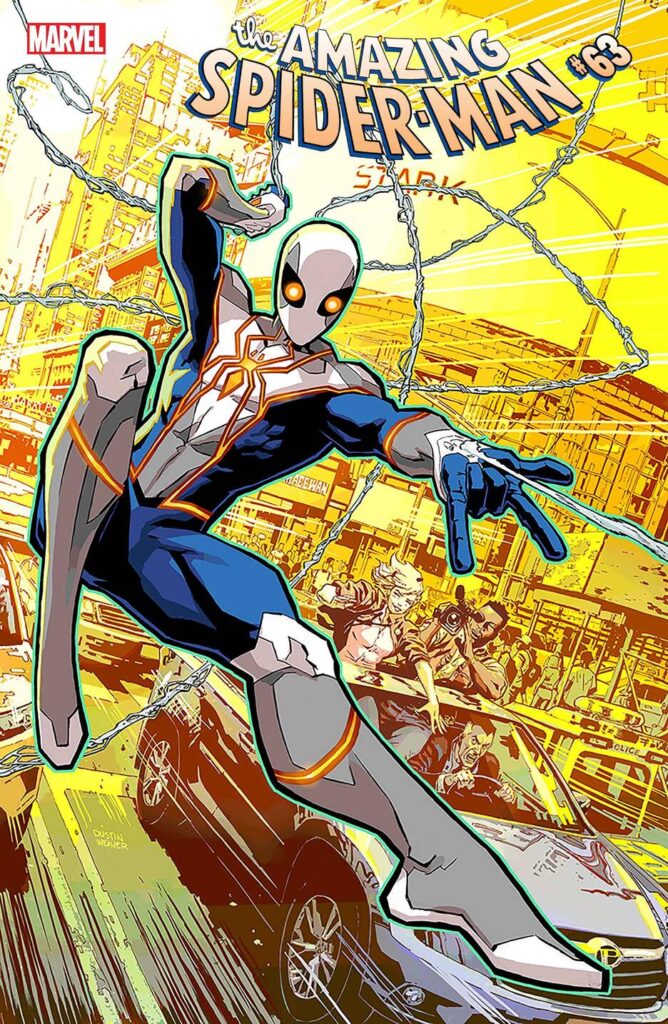 "This design was really a collaborative effort between Nick Spencer, Editor Nick Lowe, and I. They reined in the weirder and more tech-y features I was bringing and helped create something that I think is simple and both futuristic and classical," Dustin Weaver says. "I can't wait to see Patrick Gleason really bring it to life!"

Following the traumatic events of "Sin's Rising," Peter Parker will wear this new suit for his face-off against Kingpin in the next arc of writer Nick Spencer's hit run. Discover the mystery behind this top-secret costume when AMAZING SPIDER-MAN #61 and AMAZING SPIDER-MAN #62 swing into shops this March!  (Marvel)
I am definitely going to give this costume a chance to grow on me.  At first glance, I am not loving it but who knows, I might come to adore it like I do the tradition red and blue and the black and silver costumes.
If you hate it, don't fret too much.  This will change back to the traditional costume. It always does. It might take it a year or more but often these costume changes are much shorter lived.  Remember the Future Foundation Spidey White and Black Costume?  Do you remember the Spider-Armor?  How about the 90s Scarlet Spider costume? Yeah, they were all a big deal and then gone quickly.
(Via Marvel)

Stay Geeky!