Happy Birthday to the Justice Society of America aka J.S.A.  The Justice Society of America premiered in All Star Comics #3- (Winter 1940–1941).  The Justice Society is the first group of super heroes to join together and have a team.
The original team had Flash, Hawkman, Hour-Man, the Spectre, the Sandman, Doctor Fate, Green Lantern, Johnny Thunder and the Atom (all Golden Age).  The J.S.A. expanded membership. They added Wonder Woman in issue #8.  In the same issue, Starman and Doctor Midnight were added to the Justice Society.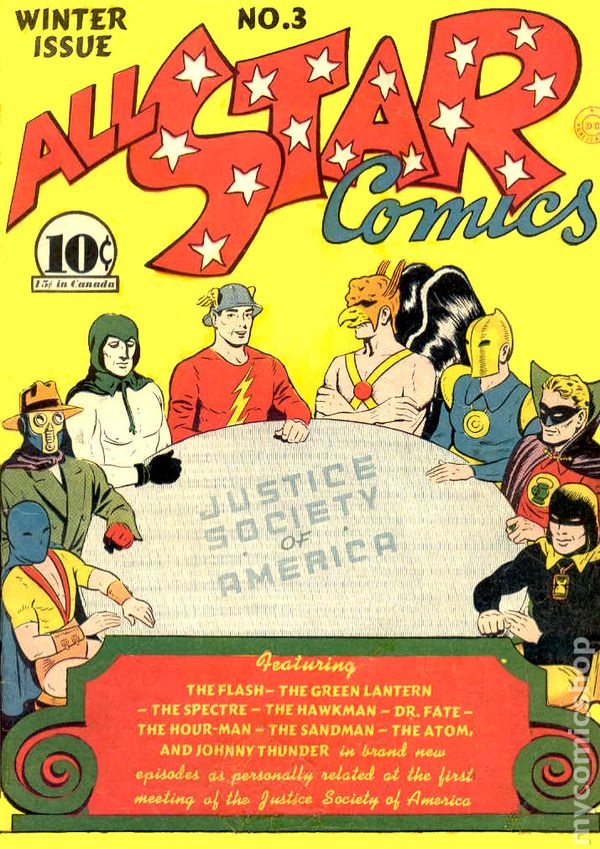 The stories with the Justice Society was more of a setting to hang out and tell stories. This lead to the group telling of solo adventures they had experienced.  This allowed different characters along with different writers and artists to tell small stories.   It kept the anthology format until 1947 where the heroes started teaming up in adventures for the whole issue.
I have always loved the Justice Society of America and their related groups of the All Star Squadron and Infinity Inc.  I loved the Justice Society annual crossovers with the Justice League of the 60s and 70s (my father collected those).  I love the classic JSA stories, the Earth 2 stories, and even the stories when they moved to Earth 1.  I just adore the Justice Society.
I am happy to help celebrate this momentous occasion of 80th year anniversary of the Justice Society.  Happy Birthday!
Stay Geeky!