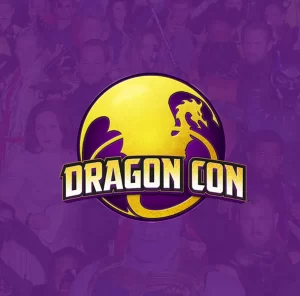 Hello all Geekykool readers!
This year Jon and I were able to attend DragonCon in Atlanta, Georgia for the first time. The largest convention Geekykool has been invited to cover. This convention certainly had both us on our feet all weekend, with five different location, multiple floors in their vendor's mart and panels in different hotels we had a lot of fun taking photos, doing interviews and seeing as much as we could of DragonCon. My first stop of DragonCon on Friday was the vendor's mart, pro tip for everyone who wants to go to this convention and shop for all the great merchandise, get to the vendors mart early, the line wraps around the building and in my case on Friday, even went into the street, which the city had blocked cars from using. Be prepared for the wait, on the plus side of this, the line may be long but it does move fast so you won't feel trapped.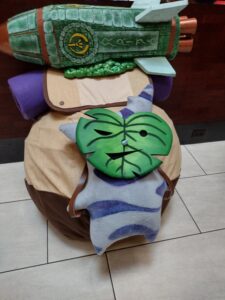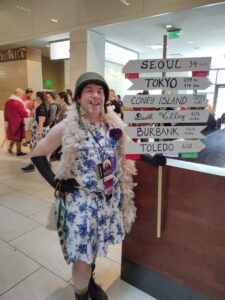 The vendors mart has multiple floors with snack vendors, merchandise, clothes, books and more! There is something for everyone's taste. It may take a while be sure to go through all the floors of the vendors mart so you miss out on a great item you'll love! Saturday was a busier day for me, I had interviews with author Jessica Cage and LDoD, Atlanta's longest running Rocky Horror Picture Show shadow cast. The podcast Midflight crisis was nice enough to give me a mini interview, for all comedy sci-fi fans this duo is a blast. All of these interviews will be up on Geekykool's YouTube page by this weekend, be sure to check them out. Also on Saturday Jon and I caught Aurelio Voltaire's yearly DragonCon concert at 11pm.  The entire audience was on the edge of their seats, his performance, just like LDoD's is something you want don't want to miss at DragonCon.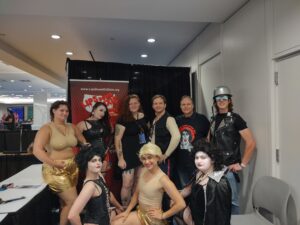 Sunday I had the opportunity to be at Voltaire's press conference which will also be on our YouTube page. The goth band Cruxshadows played at midnight on Sunday, I am sad to say I did miss that concert because we did have to drive home on Monday morning but Cruxshadows was nice enough to pose for a photo.  There were so many great cosplayers and props, that I will put together an entire article just for those photos.