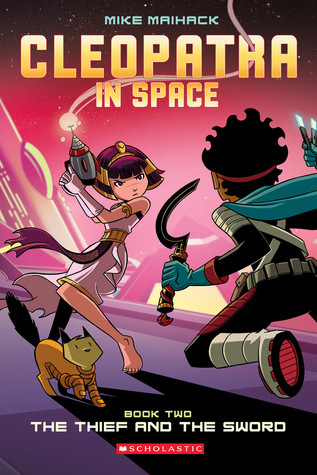 The Story:
Last year I was able to snag a galley of his first book and fell in love with the characters. Cleo is a spunky heroine who gets transported from ancient Egypt and flung far into the future. An ancient prophecy says that she is destined to save the galaxy from the evil Xaius Octavian. During the first story she proves herself by recovering an ancient sword with mysterious powers.
Cleopatra in Space #2: The Thief and the Sword
By: Mike Maihack
Publisher: Scholastic
Publishing Date: April 28th, 2015
Just when Cleo was getting the hang of school and being the savior of the galaxy, a mysterious thief steals the Sword of Kabechet. She is forbidden by her teachers to go after the thief for fear that her life will be forfeit. So, what is a teenage future Queen to do? Add a school dance, popularity, friendship challenges, and a scary twist to the already impossible prophecy, and you have the right mix for a great story.
I really enjoyed catching up with Cleo. There is lots of action, a fun new character, and a glimpse of the evil Xaius Octavian. More of the prophecy comes to light and Cleo is going to need all the help she can get from her friends and her teacher (who is also a cat). Plus, there is an epic cliff hanger at the end that made me want to read the third book right away. Seriously… when will it be out?
I am very impressed by this latest edition and I know my patrons will love it. I am bummed that the galley was not in full color because the artwork is awesome! Maihack is a talented writer and illustrator and has created a wonderful series for girls and boys. I can't wait to get this at our library. If you like strong female characters, adventure, humor, and talking cats .. you will enjoy this series!
*Thanks to Scholastic for the review copy.