If there is to be a remake of #princessbride let it be a homemade quarantine version directed by none other than the…

Posted by Cary Elwes on Monday, June 29, 2020
Cary Elwes posted this on his Facebook page. It is a teaser for The Princess Bride quarantine remake that premieres on Quibi today.
This looks like a hilarious home movie that a bunch of actors got really bored and recreated a very popular move for charity. Oh wait that is EXACTLY what it was! I approve!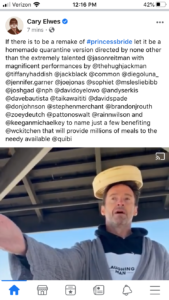 What do you think? Let us know on our Facebook page. 
Thanks for reading this GeekyGirlNess and until next time be kind to each other.