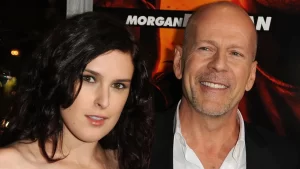 Bruce Willis
Today, family members of beloved actor, Bruce Willis, took to Instagram to announce his departure from acting. In a post on his daughter Rumor's Instagram account, the caption with a photo of Bruce Willis states,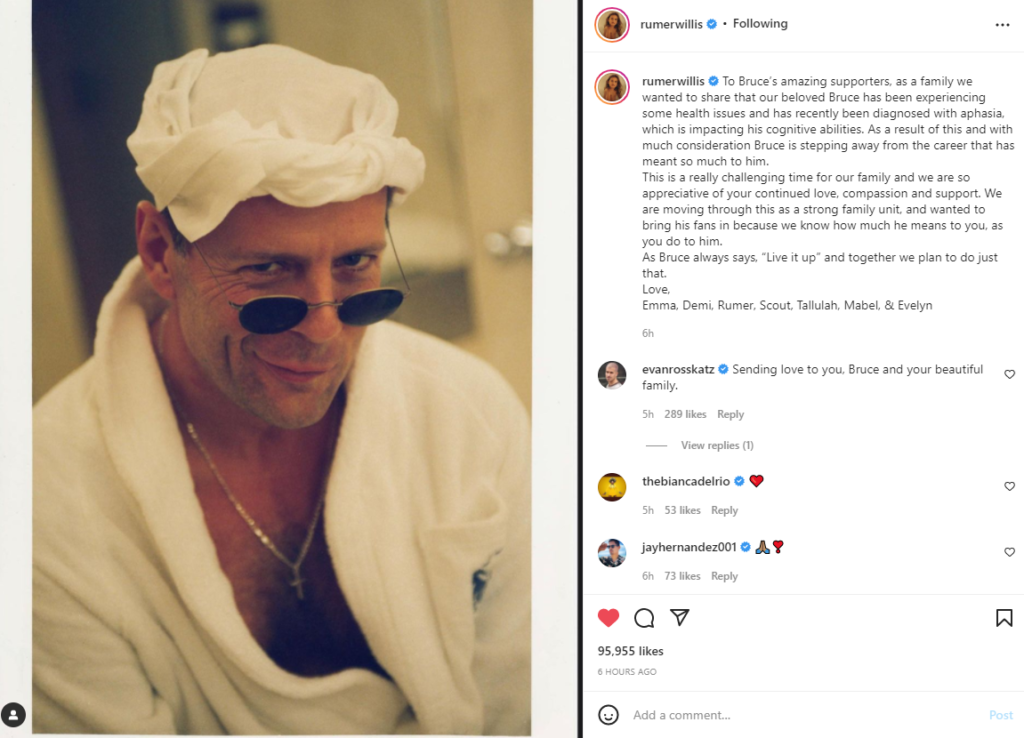 "To Bruce's amazing supporters, as a family we wanted to share that our beloved Bruce has been experiencing some health issues and has recently been diagnosed with aphasia, which is impacting his cognitive abilities. As a result of this and with much consideration Bruce is stepping away from the career that has meant so much to him.

This is a really challenging time for our family and we are so appreciative of your continued love, compassion and support. We are moving through this as a strong family unit, and wanted to bring his fans in because we know how much he means to you, as you do to him.

As Bruce always says, "Live it up" and together we plan to do just that.
Love,
Emma, Demi, Rumer, Scout, Tallulah, Mabel, & Evelyn"
Aphasia
According to the National Institute of on Deafness and Other Communication Disorders (NIDCD), a scientific partner with the National Institutes of Health, "aphasia is a disorder that results from damage to portions of the brain that are responsible for language." NIDCD goes on to state that this disease usually occurs following a head injury or stroke but may also develop slowly as the result of a brain tumor or progressive neurological disease. Aphasia develops when one or more of the language areas of the brain become damaged. Most individuals with aphasia are middle aged or older; however, anyone can develop aphasia.
Latest Works
According to his IMBD page, Willis currently has six movies in post-production with two movies marked completed. Seven of his latest works have release dates this year: Corrective Measures, Die Like Lovers, The Wrong Place, Fortress: Sniper's Eye, Vendetta, A Day to Die, and Gasoline Alley.  Three of his newest works have yet to post release dates: Paradise City, White Elephant, and Wire Room.
Willis was born in Idar-Oberstein, West Germany on March 19, 1955, making him 67 years old. He has 144 credits as an actor, 8 credits as a Producer, 2 credits as a writer, and so much more. He's most known for his Die Hard movies, Pulp Fiction, Moonlighting, and The Sixth Sense.
As for the Geeky-Kool family, we wish Willis and his family well and know he will be truly missed!