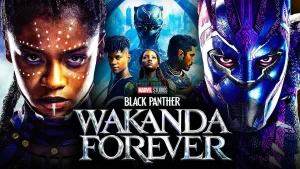 I went to see Black Panther: Wakanda Forever last night.  What a powerful movie, it was a "love letter" to the memory of Chadwick Boseman.  It was a tough movie to sit through, because Boseman's character of T'Challa, loomed so large over the entire movie.  Ryan Codger had to rewrite the script after Boseman's untimely death from cancer.  The new script shifted the focus to the woman of Wakanda, Angela Bassett at Queen Ramonda, Leticia Wright as Shuri and Danai Gurira as Okoye doing the heavy lifting in the film.
Every character is viewed as grieving the lost of King T'Challa in a different way. Angela Bassett as Queen Ramonda, commands every scene she is in, chewing up some of the best dialog in the movie. She is such a powerful force in this film, playing a mother who has lost her son, with such skill and aplomb, that award nominations are definitely in her future.  Leticia Wright as "little sister" Shuri, retreats into her lab, as she plays the "lost soul" that doesn't know how to grieve. Her shunning of "tradition", plays a big part in every action she takes during the film.  Winston Duke as M'Baku of the Jabari Tribe, also has a great role in this movie, and his growth that began in the first Black Panther film, through Avengers Infinity War and Endgame, show him as a wise leader, and one who has grown from the being an isolationist, to being a leader who cares about all Wakandan's.
While the main theme of the film is grief, Tenoch Huerta as Namor, is a great antagonist.  Namor is not a black and white villain, which is a nice change for a marvel Movie. Changing Namor's lineage from Atlantian to Tolokan doesn't affect the story as much as it could.  His "beef" with the surface world is explained very well, Huerta even learned some Mayan dialect for parts of the movie. The underwater scenes are well shot, and show a fully developed underwater culture for the Talokans.
The movie has a mid credit scene that sets up a way for Wakanda to move forward, it also shows Shuri finally able to grieve the loss of T'Challa.  A well done sequel on every level.
5 out of 5 stars