Another Christmas Day has come to a close. It is a day when family and friends get together and celebrate, share gifts, and reflect on the year that has past.  Being Jewish, I look at it as just another day, but reflecting back on the year, there are things that made me be happy for another year in the books.  There were some really good movies released this year, I'm looking at you Top Gun: Maverick, Dr. Strange and the Multiverse of Madness, we also had great TV Shows, WandaVision, Hawkeye, MoonKnight, Wednesday Etc.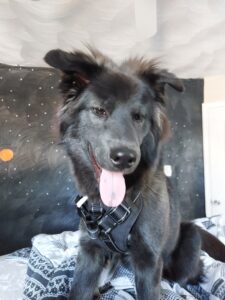 This is my Hanukkah/X-mas gift to myself. His Name is Steel and he is a 7 month old Siberian Husky/Keeshond mix. We got him from the Peninsula Regional Animal Shelter(PRAS) on Thursday. He is already settled in, and is a GREAT baby brother to my other dog Draco(who we also got from PRAS). Steel is an active dog, which is great since we have a large fenced in backyard for Him and Draco to run around in, and boy do they run around,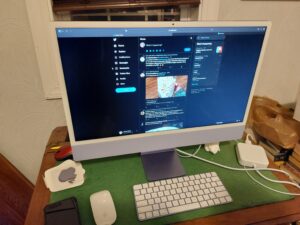 This was my Christmas gift to Ashley. Since she is a writer, I bought her a brand new iMac Pro to do her writing on. She loves it, and it will help her get her books out quicker.  It is the least I could do for her.
In fine Jewish fashion we ate Chinese food today. It is nice to keep up traditions, and I appreciate the fact that Chinese food places stay open on Christmas.
As we end 2022, and I begin my 58th trip around the sun, I am looking forward to going to more conventions this upcoming year, and of course we have plenty of good movies lined up for 2023.
Stay Geeky out there.