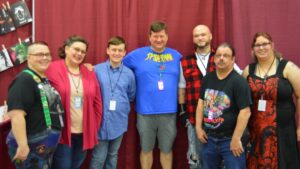 Our Story began 2 months or so ago, when AJ Terry and Shpoo Fehr announced they were tying the knot at Oz-Con 2022. Because Ashley Grant and I are the "east coast" contributors to GeekyKool. We live in Hampton, VA, and as we planned the drive, we realized it was approximately 16 hours each way.  Since I am the only one with a license, I knew I would plan to split the drive over 2 days.  We set out on Thursday, April 21st, about mid day, and drove to Nashville before stopping for the night.  Waking up early on Friday, April 22nd, we drove the last 6 hours to West Plains, MO.  Now, I am a native New Yorker, who lives in southeastern VA, so imagine my surprise when thanks to geography, my car crossed 3 states(Kentucky, Illinois and Missouri) and 2 rivers(Ohio and Mississippi rivers) in 10 minutes.  Then reaching the Ozarks, I had the fun roller coaster ride officially called MO-142. I am glad I traveled that highway in daylight, because at night, I would not have liked it as much as I did.
We arrived in West Plains about 4pm on Friday, and after checking into the hotel, we went to OZ-Con.  Since it was a convention, I was wearing my Axanar T-shirt. The Star Trek Fan Film being produced by my friend Alec Peters.  Oz-Con was a smaller convention than I was used to, but that actually worked out in its favor, being a smaller Con, it allowed for a more intimate setting between both vendors and convention attendees.   The convention had multiple panels, which were led by GeekyKool contributors Larry Little and Aj Terry.
On Saturday, the convention picked up steam, as more people came to the con. GeekyKool had a booth set up, where we met plenty of new friends, allowed them to get free comic books, and sell prints by both Aj and Ashley.  Saturday night was the reason we drove to Missouri as AJ and Sphoo tied the knot in a breakfast themed wedding.  The crowd that attended the wedding as witnesses enjoyed how everyone played their parts, and a fun time was had by all.
Sunday, was another day of Panels( Dr Who and golden age comics) led by GeekyKool owner Larry Little. Oz-Con really let GeekyKool run the kool stuff at the con, it allowed GeekyKool to expand its reach, which all of us appreciate.  I had a really good time, as a smaller con was right up my alley. Finally after 20 or so years meeting Larry was a treat(we go back to the early 2000's via some football forums), along with the rest of the GeekyKool Contributors with the exception of Morgan, was awesome. Putting faces to the names on the page was good to finally do.
All that was left for me and Ashley was a 16 hour drive home. One that wound up being close to 20 hours, as we made a few stops along the Tennessee whiskey Trail. we came home with 10 bottles of wine, 5 bottles of whiskey, 1 bottle of rum and 3 bottles of moonshine.  Will I return to Oz-Con in the future, if I can swing it, as the staff was really receptive to everyone.
Thanks for a Geeky Kool time Oz-Con