LittleBigPlanet was originally released for the Playstation 3 all the way back in 2008. Since then, it has grown into a globally recognized Sony brand with numerous games and spin-off titles. Most recently the titular character of "Sackboy" starred in a launch title for the highly anticipated Playstation 5.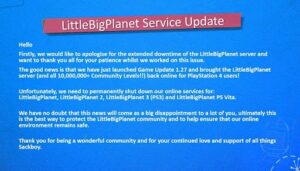 Across the multiple LittleBigPlanet (LBP) games, users could create content with ever-increasing robust creation tools and then share that content with the world for other users to play and enjoy. The game heavily emphasized creativity and the exploration of user-generated content.
One thing that made LBP unique was that each game in the series built on the last and still kept the other games intact. You could go online and play anything no matter what version of the game you had. Even the first generation game still had an avid player base making content and working on earning the achievements. . . .until today.
It was announced today that all previous versions of LBP would have their online servers taken down permanently and that only the most recent release would continue to have the online component.
This news was a huge blow to many fans who took to social media to voice their displeasure.
"We were assured over and over that we wouldn't lose the old content, and then today boom! No notice, nothing, just lies." One user wrote on Twitter.
This move was made in response to a hacker who claimed to be upset over the handling of the franchise began attacking the servers in May of 2021 and has been an ongoing battle since. Despite fans of the Franchise being assured they would not lose their content, today those fans are left feeling sad, angry, and unable to enjoy the games they loved.
LittleBigPlanet 3 on PS4 is now the only LBP game with online play. This change happened with no notice and no chance for the player base to try and get their content transferred to LBP3. To add further fuel to the fire. LBP3 is notoriously full of glitches and many players of the Franchise don't even own a copy and simply elected to stay with LBP 2. Also, since the only online game is on the PS4 many young people who played on the PS3 games won't be able to now since a Playstation Plus subscription is required.
All in all, it's just a very disappointing situation to the players and makes them feel like the disgruntled hacker actually won and people don't like letting bad guys win.
R.I.P
LittleBigPlanet
LittleBigPlanet 2
LittleBigPlanet Karting
LittleBigPlanet 3 (PS3)