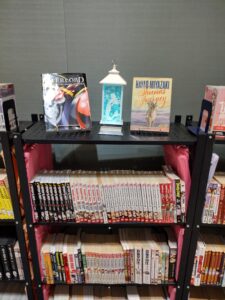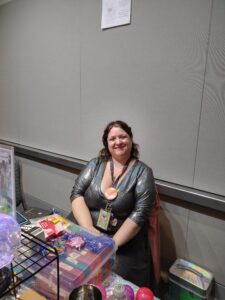 How did the Manga Library get started?
Manga Librarian: We've been in business for nine years, since 2013 at a small convention in Columbia, South Carolina called Nashicon. I was in library school with the con director and she said you have a thousand manga at home; manga libraries are a thing. Why don't you set one up for us? We had over one thousand people show up in one day. It's grown since 2013. We travel all over the Eastern seaboard everywhere from New York City to Miami all the way over to Chicago and Wisconsin. We go to children's' shelters, hospitals, book festivals, conventions, and we just set up our library so that people get free access to graphic novels because our mission is promote literacy improvement through the literacy of graphic novels.
I have to say as someone who got myself into manga as a preteen and a teenager I would have loved your manga library. I had special order all of my manga from the one bookstore my town had.
Manga Librarian: I get that, we've also pretty much become a manga museum because so much stuff is out of print it's not even funny. We have over five thousand books now.We travel all over in a gigantic trailer. It just makes me so happy to be able to do this.
What is it like? I assume there is no one size fits all for readers? You must meet a lot of different people.
Manga Librarian: It's great, my favorite part of the job is people asking what they should read. I'll ask them what they like, what they hate, what are they reading right now and what they're interested in.it's so much fun to watch them walk through the library with me. I'll hand them a book and they will sit down and not move for twenty minutes because the manga I gave them is just perfect for them. And they discover a whole new thing just because someone with the knowledge actually took the time and that was something I never had when I was growing up. I grew up before the great manga boom, in the early nineties, late eighties. I was lucky that my local comic book store had one volume of Ranma ½. My public library had one copy of Elf Quest. And I was like, this is my world now.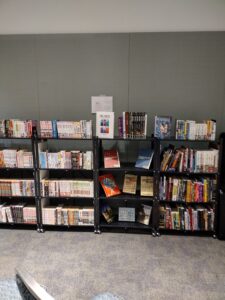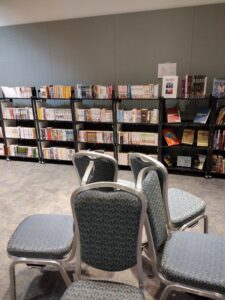 Manga Librarian: I love what we do; and I love that we help so many people. There's a lot of kids that when they get to middle school and high school they try to read what they like and their teachers tell them, "No, put down the comic and go pick up a real book." Then they stop reading, because they don't want to read the dry boring stuff that they're forced to read in school. That was the atmosphere that I was trying to create here. It does not matter what you like as long as you're enjoying it we're happy. We have this funny saying, "We don't care if it's Shakespeare or cereal boxes, you're reading."
For more information on the Carolina Manga Library please visit:
https://carolinamangalibrary.com/
To become one of their Patreon members visit:
https://www.patreon.com/carolinamangalibrary
And be sure to look to them on Facebook and Twitter.