Working in the Public library has given me some wonderful opportunities to review great graphic novels for kids. I have also been given the green light to start recommending titles for purchase. I thought I would highlight a few of my favorite novels and popular titles that I purchased for the collection last year. Two of my favorite publishing companies are Archaia Entertainment and Top Shelf Productions. Both companies put out some wonderful series and stand-alone books for all ages.
Archaia is known for having outstanding artwork and graphics with more complex and rich stories. They produce titles for all ages and do a good job of separating the age levels on their website. The following are titles that I highly recommend: (Click on the cover for more information)
 The Taylor farm is struggling to survive after a mysterious world war. Out of the blue a boy named Jet shows up, chased by a robot bent on his destruction. Roman Taylor realizes that he just might be able to save the farm if he reprograms the robot to do his will.
With minimal words and beautiful artwork, Rust is an all ages story filled with mystery and intrigue. You never quite know who Jet really is and what his real intentions are.
Age level: 5 and up
 Secrets of the cell picks up with continued dysfunction on the family farm. The youngest Taylor continues to question Jet and his motives. Especially when another robot invades the farm.
A new evil is lurking just beyond the horizon. Will they be ready? Will they survive?
This follow up novel is told through a letter that Roman is writing to his father. We get a bit more back story and insight into Romans emotions regarding all of the current events. The text is minimal with much of the story being told through the artwork.
Age level: 5 and up
Part Lemony Snicket and part Tim Burton, Billy Fog is a graphic for teens who like a bit of creepy.
(Taken from the site)
Like some other kids his age, Billy Fog has to wear glasses. But Billy has the gift of Trouble Sight, so when he takes his glasses off, he sees all the things that other kids can't—ghosts and ghouls, vampires and monsters, a world of darkness and danger and above all the thing that kids aren't supposed to see: death. Is Trouble Sight a gift, then, or a curse? A new kind of graphic novel—part storybook, part fable, part gazetteer and bestiary of the horrible and fantastic, inspired by the likes of Tim Burton and Lemony Snicket.
I love the quirky weird characters in this morbid little tale. Be advised that it deals heavily with death and is not a book for young readers. If you are a fan of Edward Gorey and weird poetry then you will likely enjoy this book. It is definitely different than many of the other graphics we have added this year. It is not for everyone, however it was a stand out for me because it is so very weird.
Age Level: 13 and up
Top Shelf Productions is another site that produces some great children/teen graphics. I really like that they have an entire section devoted to their younger viewers. You don' t have to dig for titles among the slightly squinky adult graphics.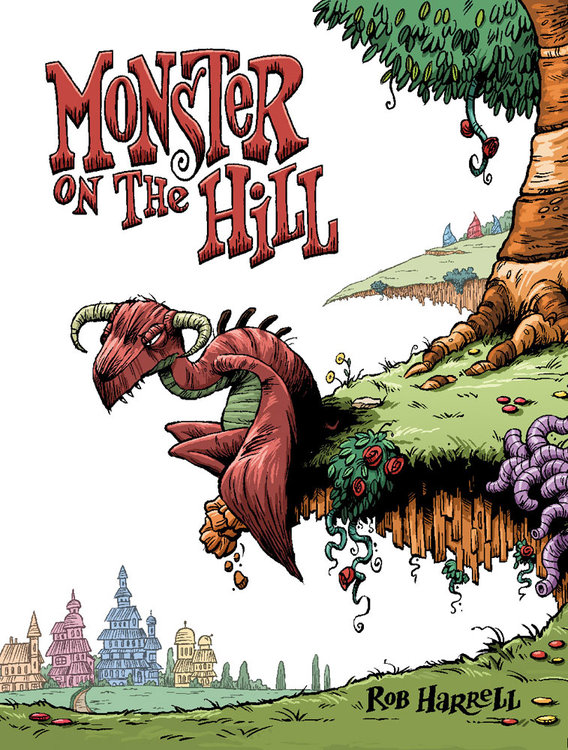 In the 1860's, every town in England has their very own terrifying monster. While most would think that this is a bad thing .. trust me it's not. The townsfolk love having their very own monster to terrify and scare them. Not only is it fun, it adds some sweet tourist dollars to the city coffers.
Yet in Stoker-on-Avon their Monster is well.. lacking. Rayburn is a boring and sad monster that can't quite get anything right. He stays in his cave and mopes all day long. It is up to Dr. Wilke and Thomas the street urchin to get him back on track.
Can they do it in time? Will the town be destroyed by and even worse menace? Will Rayburn ever get a grip?
I LOVED this book! It was filled with snarky British humor and a depressed mopey monster with an attitude problem. The artwork is bright and quirky and the tale is filled with humor and a bit of fright.
There are plenty of epic battles and moments of laugh out loud humor for the little monsters in your world. The kids and adults have really enjoyed this book since it was added to the collection.
Age level: 6 and up
While this is not 100% my favorite my students love it. Here is the synopsis taken from the Top Shelf site: (this pretty much sums up what the students were saying about it)
Pirate Penguin vs. Ninja Chicken (Book 1): Troublems with Frenemies. So what is this book about? It's about a Pirate Penguin named Pirate Penguin and a Ninja Chicken who isn't (ninjas are too sneaky to let you know their real names. Hint: It isn't Harold.) They are the bestest of friends and also the worstest of enemies all at the same time (just like in real life! Only more cartoony of course.) I think you'll like this book, there are about a bajillion jokes inside, and it's filled with action, adventure and arguments. Sometimes the stories are really teeny, about stuff like ice cream or origami, and sometimes the story gets really epic-tastic, filled with spaceships and giant monsters and evil koalas and stuff (just like real life!). Plus, being about pirates, there are at least 17 swordfights (that's the rule with pirates). You'll just have to go ahead and read it to see if you like it. 
Okay, it's not serious reading… but it is fun. Think Sponge Bob humor and you have a pretty good idea of what this is about.  It is never on the shelves and there are several follow up stories in the series. 
Age Level: 6 and up
This is just a very tiny taste of the comics and graphic novels out there for children and teens. I hope to start highlighting more as I explore the collection. I am always looking for suggestions and if you know of anything that is great for all ages please suggest it below. If you are a comic/graphic writer and want me to give an honest and unbiased review of your work for this age group feel free to contact our site.