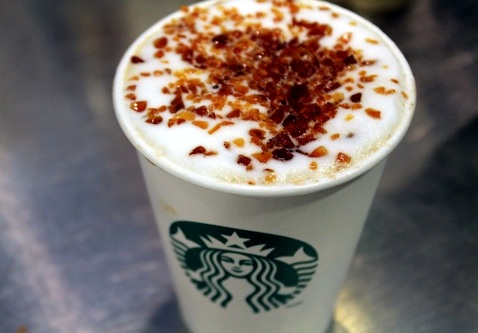 With all of the snow and cold upon us it's time for some geeky beverages. If you are a Starbucks junkie like me then you know about their "secret" menu. It is a delightful fan created page with loads of recipes for pretty much any drink imaginable. Before Christmas they released their recipe for Butterbeer Lattes. Holy broomsticks Harry.. it is divine!
I will say that if you are not a big fan of cinnamon only ask for half of what the recipe calls for. I have had it with coffee and without. Since I can't have milk I get it with either soy or almond milk. It is still super yummy. The Mister and I went to Universal Studios to see the Harry Potter theme park a few years ago. We consumed large amounts of butterbeer both hot and cold. This is similar to the warm version they served at the park.
FYI- You cannot just walk up to a barista at Starbucks and request this drink. You have to have the recipe with you. Trust me they get super annoyed with people who expect them to know these crazy recipes. Print a copy or save it to your smart phone.
Starbucks Secret Menu Website Link
Butterbeer Latte Recipe
Whole milk steamer
Add Caramel syrup (2 for tall, 3 for grande, 4 for venti)
Add Toffee nut syrup (2 for tall, 3 for grande, 4 for venti)
Add Cinnamon Dolce syrup  (2 for tall, 3 for grande, 4 for venti)
Whipped cream and salted caramel bits on top (or creme brulee topping if you prefer)
Optional if you prefer to add a coffee taste: Add a shot of espresso (2 for a grande or venti)
Created by Bridgette H. 
Let us know what you think and stay warm! Got a favorite Starbucks geeky recipe? Share it below.