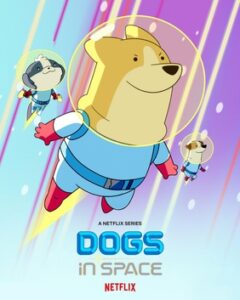 Dogs in Space
Dogs in Space is a ten-episode, anime show (rated TV-Y7) currently available on Netflix. This series can be easily binged in an afternoon because each episode only about 20-22 minutes in length. It's rated Y7 but it's enjoyable for all ages. Both my husband and I loved the adventures of these courageous canines as much as our kids. It's full of hilarious dog antics and humor, action, adventure, and is filled with heart-warming moments.
https://www.youtube.com/watch?v=lzOLg2KuyHw
The Creators
Jeremiah Cortez is the brains behind Dogs in Space. Premiering on November 18, 2021, the series is brought to you by Atomic Cartoons, the same creators who made Spidey and His Amazing Friends, Hello Ninja, and The Last Kids on Earth.
The Plot
Dogs in Space takes place in the not-so-distant future when humans have exploited earth beyond redemption. Scientists have genetically altered dogs to "fetch" a new planet for their humans. The series begins mid-mission while the anthropomorphic dogs are still searching for the perfect planet for their humans.
The Voices
With lovable characters voiced by a talented group of actors including, Haley Joel Osment, Sarah Chalke, Kimiko Glenn, Chris Parnell, Debra Wilson, David López, and William Jackson Harper, these dogs come to life. In addition to these talented actors, the audience gets to hear the voices of John DiMaggio, Michael Dorn, Wil Wheaton, and more.
The Characters
Osment voices gutsy, and somewhat naïve, Captain Garbage. As captain of the ship, Pluto, Garbage is a spirited Corgi who often blunders missions despite his ever-present optimism. His tactical officer Stella is a level-headed Sheltie. Nomi is Pluto's enthusiastic Shih Tzu pilot. Ed is a kleptomaniac Jack Russell terrier who serves as the ship's ambassador. Chonies, a Chihuahua, is the captain's "yes man," and Loaf, a nervous bulldog, is the crew's surveillance officer who remains stationed on the ship's station, the M-Bark.
While away on mission, Pluto's crew pick up a new member, Kira. She is a cynical husky who suffers from paranoia after she is the remaining member of her crew who crashed on an alien world. Kira's long-term exposure to the unusual atmosphere altered her DNA gives her purple fur and unique abilities. Additionally, adjusting back into dog society becomes difficult because she spent too much time alone in survival mode. Her struggle to readjust into dog civilization gives the series the right amount of tension to drive the story forward.
Introduction
The series was granted 20 episodes, so a second season of Dogs in Space is hopeful, especially since the first season ended with room to explore new storylines. If you've watched the series, did you enjoy it? Who is your favorite character? Be sure to leave a comment below and keep an eye out for more articles on family-friendly shows soon! Stay Geeky!